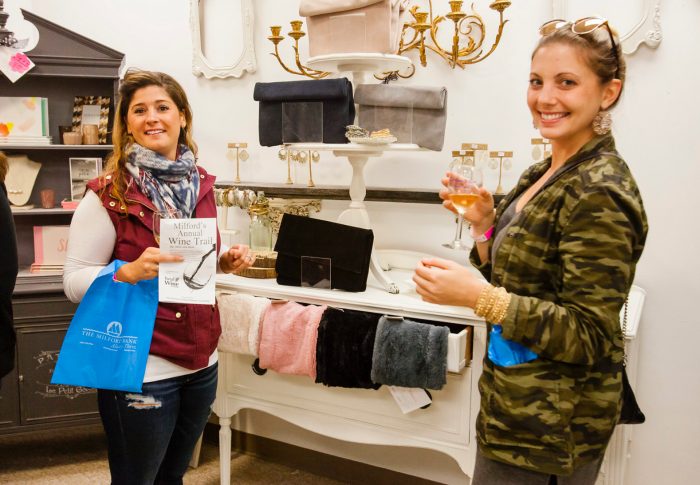 Saturday, October 7, 2023 from 5 p.m. to 9 p.m.
Organized by the Downtown Milford Business Association and sponsored by Stonebridge Restaurant and Chevrolet of Milford, the Milford Wine Trail is one of the most anticipated events of early autumn. 2023 marks the 14th year of this annual walking and sampling tour showcasing the many unique businesses that line the streets of downtown Milford.
Discover downtown Milford while sampling a variety of wines (courtesy of Wines and More) accompanied by nibbles from a cornucopia of local restaurants and eateries, including Stonebridge Restaurant, Bin 100, Bar 3 Thirty Three, Lasse's Restaurant, B's Twisted Eats, Eli's Tavern, Walnut Beach Creamery, Silver Sands, Scratch Baking, and Cafe Atlantique.
Wander storefront to storefront following the Wine Trail route; sip, sample, shop, and see all the services available to you right here in Milford. Best of all, the proceeds benefit the Milford United Way!
Attendees begin the trail at the DMBA booth in front of The Milford Bank at 33 Broad St. You'll receive a wine glass and a map of Wine Trail stops. Participating downtown Milford businesses include Sunshine Ceramics, Makeup Makeup, S.V. Decker, The Lovet Shop, Cafe Atlantique, Sophie Claires, SunSpray Tans, Inside Living Style, Arciuolo's Shoes, Scratch Baking, The Milford Bank, Whispers from Lady Olga, Kate Burton Salon, and The Body Waxing Studio.
Tickets are $50, purchased in advance here. Visit the event page on the DMBA website for more information.